One of our favorite moments at Iris Memory Care is when a resident is out on an outing with the activities team and someone comes to the community looking for them. It could be a home health or hospice aid or a family member or friend stopping by for a visit. When we tell them, "I'm sorry! They aren't here at the moment. They are off doing (insert something fun)!" we are often met with looks of surprise and then a smile. It is such a little shot of positive to be able to communicate that the resident, even as they cope with Alzheimer's or other kind of dementia, is still living life and interacting with the world. Moving into a memory care community does not have to mean the end of fun. And at Iris Memory Care, we strongly believe in the power of fun!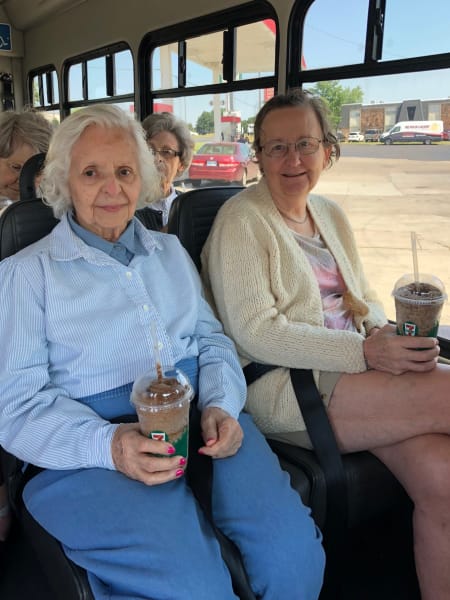 We strive to engage residents at all levels of the spectrum of dementia. Outings are a powerful tool in our toolbox. For those residents that are a little higher functioning, going to Walmart or a restaurant is a nice shot of normal. It is a way to stay in touch with life as it was before dementia. Larger trips like a trip to the zoo or the Arboretum, while tiring, are a wonderful change of pace. For our residents who are living with more advanced dementia, the sensory effects of getting out in the fresh air, feeling the sunshine on their face, and seeing the world go by the windows of the bus on a scenic drive provide great stimulation while not being overwhelming.
While we caution that outings are not a positive experience for every resident every time, the experience provided by an outing is often a very, very good one. We love that our communities have access to wheelchair-accessible transportation and activities teams that are trained and willing to take on the challenge of taking memory care residents on regular outings. We strive for weekly outings, if not more, and we love seeing the positive effects. We see improvement in residents' quality of life and mood after outings. Thoughtful, conscientious outings that match the functional ability of the resident can reduce agitation and sundowning. They are an important aspect of life at Iris!