Personalized Care Path
Our specially trained staff use informed, innovative care approaches rooted in compassion and delivered with dignity. It's quite common for residents with memory impairment to visit past experiences throughout the day. Rather than challenging or correcting their observations, we join and support them on their journey. When a new resident joins Iris Memory Care, we partner with families to gather an extensive social and life history of their loved one. This equips us with valuable insights about past events, relationships, hobbies, and interests which allow us to create a Personalized Path of Care.
Five Steps to Personalized Care
Getting to Know Your Loved One
When a new resident joins the Iris Memory Care community, our staff conducts a personal evaluation to identify their cognitive function, social interaction, mobility challenges, special dietary needs, and more. Family members are encouraged to attend the evaluation to provide insights about past events, personality traits, friends, relatives, hobbies, and other details which will help us connect with their loved one. We also review health records for previous illnesses and events that may shape the care path.
Attentive Physical Care
From proper nutrition, hydration, and medication management to compassionate assistance with activities of daily life, the needs of our residents are central to each care path. Once we've developed a Personalized Path of Care, we work daily to strengthen their abilities and promote independence.
Positive Social Engagement
An important point of difference for Iris Memory Care is the emphasis we place on making meaningful connections. Our staff members visit each resident multiple times per day, and we make it a point to facilitate connections among residents with similar interests. We also offer outings to foster connections with the surrounding community.
Sensory Enrichment
With memory impairment, activities that stimulate the senses and encourage hands-on participation can be invaluable to soothe or delight your loved one in the moment. Music and art play an important role in the care provided, as do stage-appropriate tasks. When anxiety or sundowning issues arise, our Snoezelen® cart helps to reduce stress through sensory engagement with calming aromas, textures, sights, and sounds.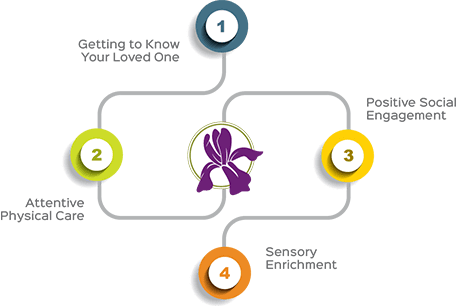 Always Adapting
Every resident experiences the challenges of memory loss differently. A routine that works well today may not be as effective tomorrow. That's why we provide Personalized Care Paths with the ability to adapt to the moment and be regularly updated with input from our caregivers and nursing staff. Whatever the moment may bring, our residents physical and emotional needs are the most important considerations in shaping their Personalized Care Path.
By empathizing with our residents and relating to the event or emotion they're experiencing, we are able to ask them questions and provide gentle redirection to offer comfort in the moment. Connecting the past to the present encourages residents to express their needs and feelings freely and openly, fostering a renewed sense of self-esteem and independence.
Learn more about Iris Memory Care of Nichols Hills' Personalized Care Paths by contact our helpful team today.