Welcome to Iris Memory Care of Rowlett
Iris Memory Care is proud to be the first Assisted Living Community in Rowlett to offer specialized Alzheimer's & Dementia Care. At Iris Memory Care, we believe that our expertise and specialized knowledge of Alzheimer's and other forms of dementia combined with our heartfelt compassion create the best quality of life for your loved one. From the moment you walk through our front door, you'll feel like you're in a single-family home complete with familiar sights, soothing sounds, and homey aromas, providing an easier transition for your loved one. For respite care, short-term stays, or long-term stays, Iris Memory Care welcomes you and your loved one with compassion, dignity, and all the comforts of home.
Personalized Care Services
Iris Memory Care of Rowlett offers a broad range of Memory Care services and robust activities to support your loved one's wellbeing. Our caregivers are specially trained to assist residents with Alzheimer's and other forms of dementia. Understanding that memory loss impacts each resident differently, we make it a priority to get to know your loved one on a personal level. At Iris Memory Care we provide the following services:
Trained care staff 24 hours a day
On-site nursing
Medication management
Personalized daily activity programming
Three chef-prepared meals daily, dietitian approved 
Healthy, nutritious snacks
Personal assistance with bathing, dressing, and grooming
Incontinence care
Scheduled transportation*
Housekeeping and laundry services
Mobility and transfer assistance
Emotional and behavioral management
*Available on case-by-case basis.
Amenities
Resident suites and community spaces at Iris Memory Care reflect an elegance that lends itself to both privacy and dignity. The striking beauty of hardwood-like floors make you feel at home while also providing durability and helping to eliminate fall risks. Private bathrooms are finished with granite, gorgeous tile showers, and custom wood cabinetry. Even the wall colors are specially chosen for their calming qualities. Additional features and amenities include:
Comfortable living rooms
Covered porches for shaded relaxation
Beautiful courtyards with circular paths for outdoor strolls
Game and activity room
Full-service salon
Snoezelen® therapy
Life safety systems
Emergency Generator
Wander management
Access Control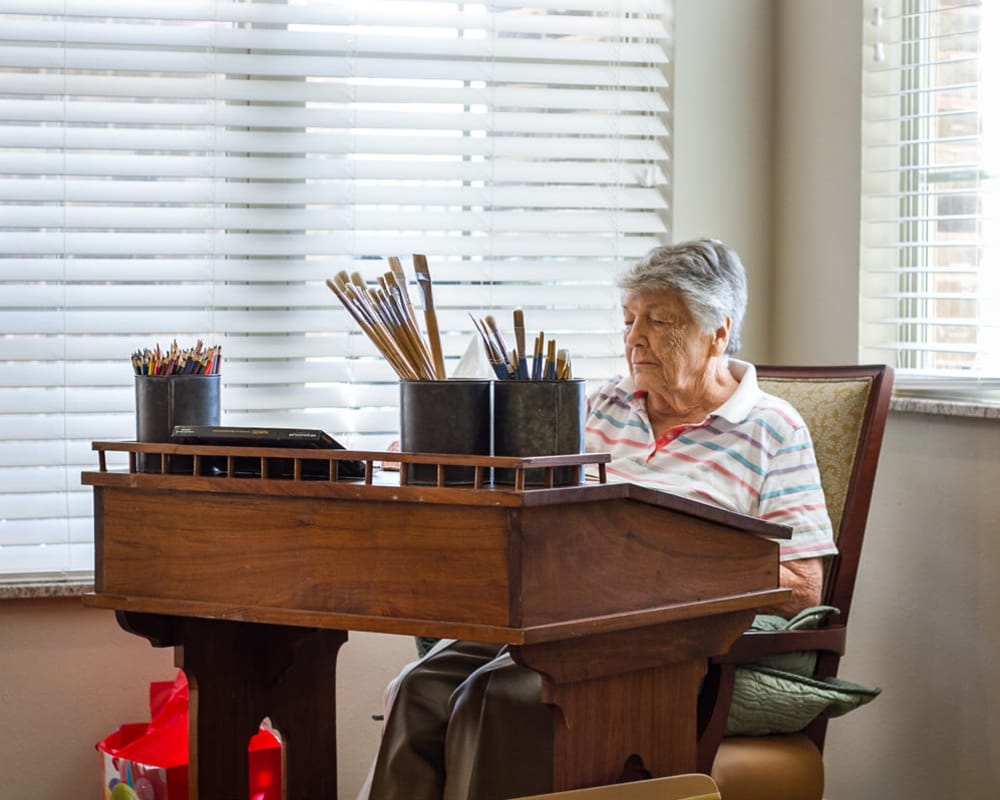 Enriching Activities
Our activities and amenities are inspired by the unique sensory needs of Memory Care residents, providing regular opportunities for your loved one to get moving, get social, and engage in simple tasks that stimulate the mind and elevate mood. Such activities and amenities include:
Peaceful stroll along the secured walking path
Rejuvenating trip to the onsite salon
Pet therapy
Interactive, stimulating art throughout the community
Life Stations (handyman & fishing, nurturing, and secretarial)
Three family-style meals daily
Regular field trips and outings
Community events, games, and programming
Artistic expression and musical enrichment
Gardening in our courtyard
Spiritual support and community connections
Snoezelen® therapy
Memory Care By Design
Iris Memory Care is the residential alternative to traditional Assisted Living. Unlike other Memory Care communities which regularly have in excess of 40 residents in a building, Iris Memory Care has two separate buildings that are built for a maximum of 24 residents each. Advanced research has shown that those living with Alzheimer's and other forms of dementia thrive in a small, intimate environment, therefore our home-like model lends itself to maintaining each resident's health, happiness, and freedom of movement.
An open floor plan in each home at Iris Memory Care permits residents to easily navigate their way and allows staff to provide accessible care and supervision. Thanks to a higher staff to resident ratio compared to most Assisted Living communities, residents enjoy individualized attention and care every day at Iris Memory Care. The kitchen and dining areas are designed to encourage community and social engagement. Meals are served from an open concept gourmet kitchen where you can see, smell, and hear the preparations and even have a chat with the chef. Families are encouraged to join their loved one any time for engagement and conversation over a home-cooked meal!
Keep Each Other Close
Located in Rowlett, Texas on Miller Road, Iris Memory Care is on the way to and from all of the area's major destinations, including Firewheel Town Center, Rowlett's new Bayside project, and Lake Ray Hubbard, making it easy for family and friends to stop in for visits. Conveniently located just off the President George Bush Turnpike, Iris Memory Care also serves Garland, Sachse, Rockwall, Mesquite, Sunnyvale, Wylie, and Murphy. No fewer than three of region's largest hospitals are within a 15 minute drive, making it equally convenient to accompany your loved one to important appointments.
Contact us to schedule your tour of Iris Memory Care in Rowlett, TX, and see how we manage to live well in every moment.
4906 Miller Road
Rowlett, Texas 75088

469-229-7263
REGARDING THE COVID-19 CORONAVIRUS PANDEMIC
During the healthcare crisis with the novel coronavirus, COVID-19, Iris Senior Living remains committed to serving seniors and their families. Our first priority, always, is the safety of our residents and our staff. Our residents are a vulnerable population, and we want to do everything we can to keep them safe and well. We are following strict safety guidelines recommended by the Centers for Disease Control, as well as staying up-to-date on and following protocols required by local, county, and state health departments and governments. To inquire about specific community preparedness and practices relating to COVID 19, please contact the Executive Director at your community of interest. Thank you. 
Case Count: 
Staff: 0
Residents: 0