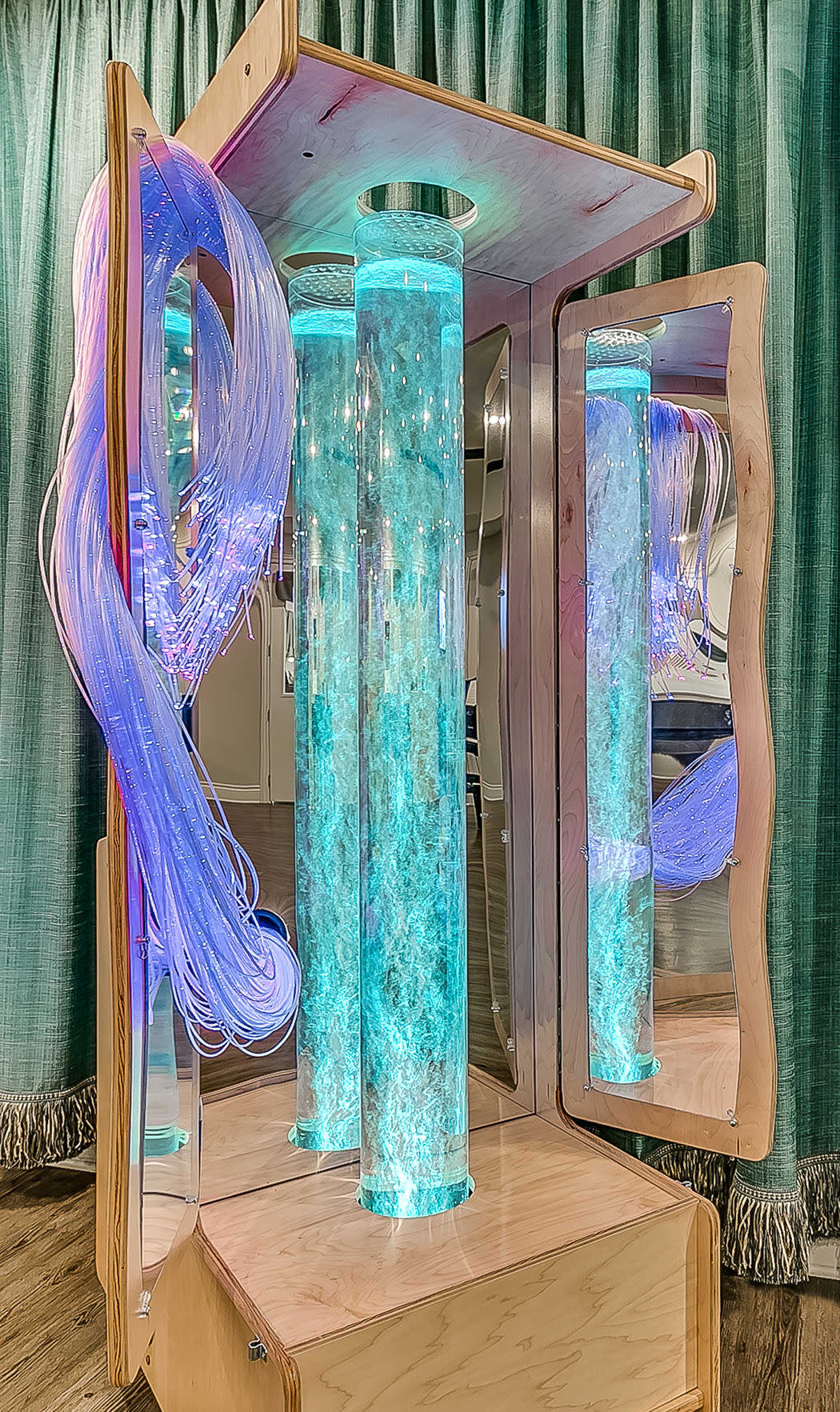 Snoezelen® Therapy for Dementia
Iris Memory Care is one of only a few communities in Texas that offers Snoezelen® therapy, a multisensory approach designed to stimulate the mind, increase awareness, and improve mood and cognition. Utilizing the Snoezelen method for dementia care, we are able to create better living experiences for seniors with dementia, Alzheimer's, and other memory loss.
The Snoezelen® Experience
Staff at Iris Memory Care are able to create Snoezelen®-style multisensory environments in all of our living spaces thanks to our portable solution, the Snoezelen cart. Able to move from room to room as needed, this cart houses a variety of soothing and gently stimulating items, including captivating bubble tubes and soothing fiber-optic lighting tubes which slowly change color. The Snoezelen cart lifts residents' spirits and has calming benefits which can help to combat the symptoms of "sundowning," a state of agitation and confusion which tends to increase toward the end of the day.
Seek, Explore, Relax
The term "Snoezelen," pronounced SNOOZ-eh-len, is a blend of the Dutch words "snuffelen," meaning to seek and explore, and "doezelen," meaning to relax.
About Snoezelen® Therapy
Snoezelen® therapy was created by two Dutch therapists looking for an effective way to spark engagement and enhance moods among those living with cognitive impairment. The Snoezelen method is designed to satisfy your loved one's need for sensory stimulation by providing tactile, visual, and auditory elements, such as soothing sounds and lighting effects.
To learn more about how Snoezelen® therapy can help your loved one live with more joy and comfort, contact Iris Memory Care of Rowlett today.